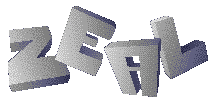 2008-02-28 Added Youtube clips on this page!
2007-09-07 Moved the page to a better server!
2001-07-18 Added some good links
2001-07-17 Uploaded the game "Wormrace"
2001-07-10 All downloads are working
2001-07-09 I added some screenshots from the demos
Zeal was a swedish demo crew that made demos and a game for the Atari STE during 1993-1994.

The members were:

| | |
| --- | --- |
| Empa | Coder, Graphix |
| PQ Lear | Coder |
| Noon / Oi! | Coder, Swapper |
| Rubbish | Musix |
| Clawz | Graphix |
| Xor | Swapper |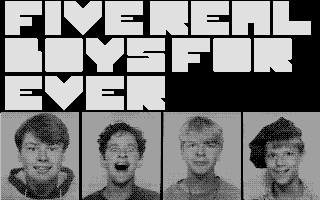 This is an old pic that was found in a pack of files that I got from Marcer, thanks!
It was supposed to be in a demo. This is from the old group called FRB (Five Real Boys / Four Real Boys).
From left to right, Rubbish (Robert Kreese), Empa (Mikael Emtinger), L76 (Leif), Noon / Oi! (Olov Johansson).
Thanks to the great Atari STE emulator Steem, you can watch all of our demos on your PC. Download Steem, use TOS 1.62 (I use the swedish version), setup Steem to use 1 Mb of memory and of course color monitor. Then download the demo you want to watch, unzip it, and place it in Steem's virtual drive A:. Start the emulation, and there you go!!!
/Rubbish
Demos:

| | |
| --- | --- |
| Alive - 1993 | |
| Lethal Trash - 1993 | |
| Vision - 1994 | |
| Birdie 2 - 1994 | |
Game:

MOD's by Rubbish:
| | |
| --- | --- |
| Living Space | The first "real" MOD. It was played in the MOD competition in Lidköping 1992. |
| Spendura | A four-channel MOD made for the MOD-compo at TCC 93. It came at 3:rd place in the Atari section. We also used this MOD for our demo Lethal Trash. |
| Candy for your ears | This four-channel MOD was used in the Zeal-demo Vision. |

Links:
| | |
| --- | --- |
| Dead Hackers Society | If you are looking for other crews from the Atari scene or utils for the Atari ST/STE go to one of the best Atari pages on the net. |
| Yoghurt | The ones that created the famous STiG demos. Check this out and have a laugh... |
| MeGaTaRi ST-Demos | Great site with many Atari ST/STE demos! Check this one out right now! You're gonna like it! |
| Little Green Desktop | A great Atari site with lot's of stuff, games, TOS, emulators, links etc. |
© 1999-2008 Rubbish of Zeal